Out and about in Nairobi- An insider's tour
Out and about in Nairobi- An insider's tour

Here comes my little brother Dr Moath on a short visit from Oman and it's time to get busy out and about in Nairobi. Although I have been mostly residing in Nairobi for the past two years, I noticed that my blogs are mostly documenting my trips outside of the city that I call home for the time being so here I am writing a bit about Nairobi from an insider's point of view. So buckle up and get ready for this wild ride.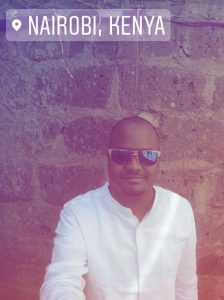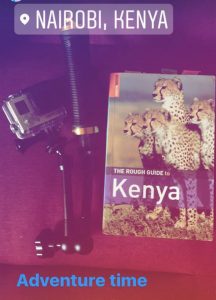 Our first stop was a lunch at the Carnivore in the Langata suburb of Nairobi around 8 kilometers from Nairobi's city center. This open-air restaurant's specialty is meat and features an all you can eat meat buffet. Carnivore was in the past famous for their game meat until 2004 when the Kenyan government imposed a ban on the sale of game meat. Still, the restaurant serves a wide variety of meat of domestic animals including meat of farmed ostrich and crocodile. The coal-cooked meat is skewered on Massai swords and when the meat reaches a perfect temperature, waiters carry the full skewers through the restaurant. The meat experience is served along with a complementary variety of side dishes such as salads, soups, vegetable dishes and authentic sauces to complete this gastronomical tour of African cuisine. The restaurant bushy ambiance is amazing, it serves in depicting how a meal in the wild savannah might feel like, and the service is of a great quality. If you are not a light eater and looking for the ultimate Beast of a Feast, then Carnivore is the place to be. As for both of us, we lowered the white flag in the corner of our table and surrendered after just one round of meat. Our surrender was noted with final edible bites of a blondie and crème Brule with premium Kenya AA coffee.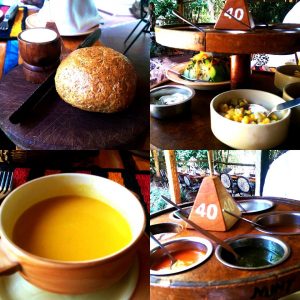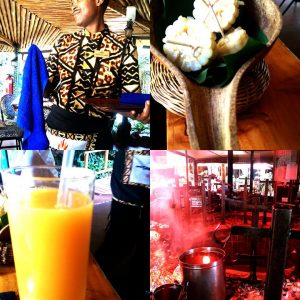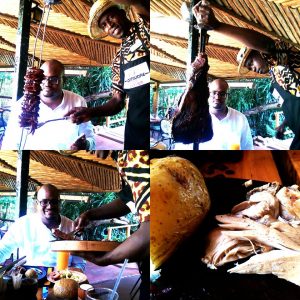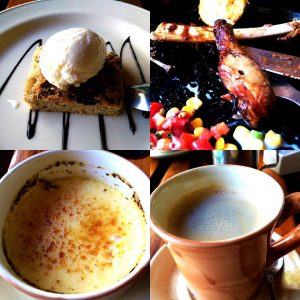 Our second stop was the David & Daphne Sheldrick Elephant Orphanage. The orphanage that was established in the year 1977 plays a significant role in local conservation efforts and is entirely supported by donations and memorializes the work of David Sheldrick, a renowned naturalist who served as the founder warden of the Tsavo East National Park in South-Eastern Kenya from 1948 to 1976. During our visit to the orphanage, we saw orphan elephants nurturing and we learnt about the trust's two major programs: Orphan's Project and Fostering Program. The Orphan's Project is a globally recognized program that rescues and rehabilitates elephants and rhinos that have been orphaned due to poaching and habitat loss, and hundreds of infant elephants have been hand-raised and reintroduced to the wild at Tsavo East. The Fostering Program, in partnership with the Kenya Wildlife Service, supports an elephant nursery in Nairobi National Park that is overseen by Dr. Dame Daphne Sheldrick who is credited with developing a complex milk formulary, as well as an in-depth understanding of husbandry. Since 1999, the trust has been involved in anti-poaching efforts by operating and funding many successful de-snaring teams and aerial support personnel who work with wildlife authorities deep within the boundaries of protected areas to stop the activities of illegal meat hunters. As much as we felt sorry for the orphan elephants to be raised in captivity and to lose their nurturing mothers at an early age of their lives, as much as we were happy to see them feed from their milk bottles and play around with mud and water. Baby elephants are so cute, much cuter than you can ever imagine.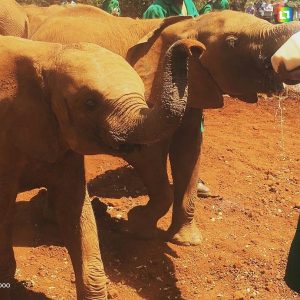 Our next stop was the Giraffe Center, which is not that far away from the Elephant Orphanage. The Giraffe center was first opened in response to the endangered status of the Rothschild giraffe, the population of which had declined, reaching a low of 130 animals in the wild because of agricultural practices in their native habitat. Successful fundraising efforts secured enough funds to move four herds of these graceful animals to Lake Nakuru National Park, Nasalot Game Reserve, Mwea Game Reserve and Ruma National Park, and the success of these efforts has increased the population to over 500 individual giraffes in Kenya alone. The most exciting part of the visit to the Giraffe Center is the experience of seeing these animals up close and even feeding them and further more kissing them. Yes, we kissed a giraffe and we liked it. The Rothschild giraffes are majestic creatures with pretty long and good-looking eyelashes and they will not resist the touches as long as you feed them and rub them gently.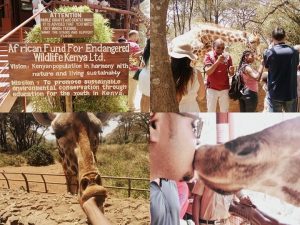 We also visited Bomas of Kenya , a cultural tour of Kenya's major ethnic groups, such as Mijikenda, Luo, Taita, Embu, Maasai, Kikuyu, Kamba, Kalenjin, Luhya, Kisii, Kuria to name just a few of the native peoples that are represented at the venue. The word "boma" means "homestead", and here you find replicates of traditional villages that provide interesting insight about each tribe's societal structure, crafts, music, dancing and much more. The site was founded in 1971 by the Kenya Tourist Development Corporation to preserve the ancient traditions of the Kenyan people by building local and international awareness and advocacy. The bomas are built using the same techniques that are used by local tribes, so the experience is truly authentic, much as you would find in the remote communities of Kenya. The site is also home to an impressive auditorium, one of largest in Africa that seats 3,500 people to watch the internationally recognized Harambe dancers. Daily performances include a selection of more than 30 traditional dances of the different ethnic groups in Kenya, and one of the most impressive performances is the Samburu and Maasai warriors.
Among the places we visited were a Safari ride in Nairobi National Park,Karen Blixen Museum, The Railway museum and Dust Depo Youth Arts Studio, Ngong Forest and Hills and I shall leave you with some photos to admire and enjoy 🙂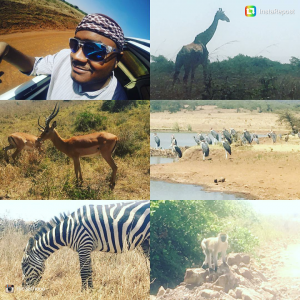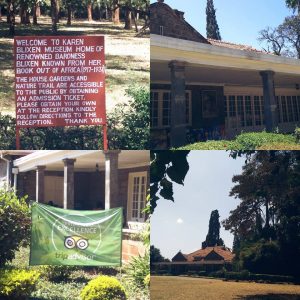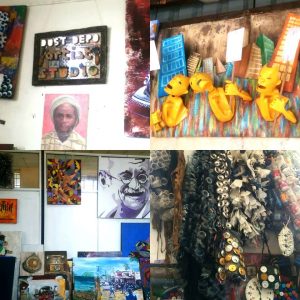 A nd of course little Dr. Moath had a private guided tour within icipe and had the chance to taste different honey varieties produced within icipe's Bee Health Labs.He also visited icipe's silk museum and saw Marwa's black soldier flies and was quite impressed with all the insects related stuff going on within icipe.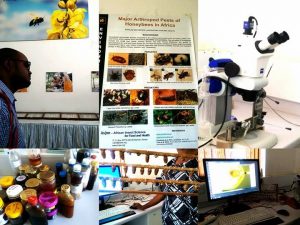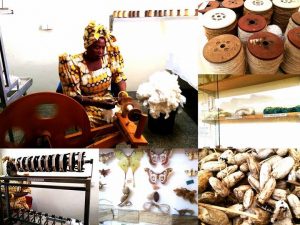 We were also invited to an authentic Kenyan dinner at Mama Halimah's house, who happens to be my landlady and the mother of the family who lives next door. Mama Halimah wanted Moath to try some ugali, sakuma wiki and Kenyan chapatis and we did like the dinner very much.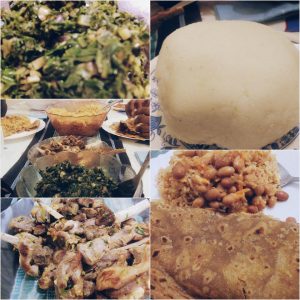 And I did make him try Kenya's well known matatus and it was quite fun 🙂
Moath's time in Nairobi ended so soon, and happy to know that he enjoyed each and every minute he spent here with me.I am also thankful to him for taking me out of my regular icipe's digs and routines.
Any person who is on a knowledge seeking journey and in particular at a PhD level would figure out that its a one man job and that most of the time he would find himself alone.Good news its a journey that is teaching you how to divert loneliness into solitude and solitude is power at its highest form. Regardless of the well spent times in solitude Marwa remains thankful to the good company that her brother provided her with..I travelled the whole world only to recognize that love is always awaiting me at home..Don't know where would our next meet up be, but Moath I hope we indulge into a similar adventure somewhere else anytime soon.I already miss you.