Arts as a common language – a workshop with Saleh al Shukairi
Arts as a common language – a workshop with Saleh al Shukairi
ZEF was our venue, an international intercultural hub in Bonn. The German Omani Association, Arabia Felix GmbH and the Embassy of Oman were our main donors, IHV Bonn were our partners, Saleh al Shukairi was our guest and the language we had in common was ARTS.
My friend Hind and I thought of turning our homesickness into something positive, instead of constantly wanting to be home, we decided to bring some pieces here. We started writing down our proposal,for hours and hours Hind and I kept on reflecting on how to organize an event that is similar to her, to me and to Oman. For those who are unfamiliar, Oman is old meets new, authentic meets contemporary and classic meets modern. In my personal opinion, a good example of what I mean is the Royal Oman Symphony Orchestra. In 2007,the orchestra performed for the first time at the Young Euro Classic Festival as part of the European Music Summer in Berlin. Berlin was full to the raffles with an audience of critical and musically pampered European followers of Classic music.The event that was broadcasted live on Deutschlandradio and turned out to be a memorable day to both the musicians and the public. For the first time, the public saw female musicians in Omani national costume- bright green dress, red head scarf and gold head jewelry. The audience were surprised to see that the young ladies were represented in all sections of the orchestra including percussion, unlike in many European orchestras were women are still resticted to string instruments, flutes and harp.In fact, women of the Royal Oman Symphony Orchestra made up the majority of the brass section.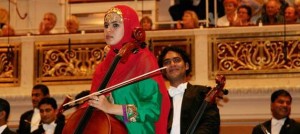 Now why did I mention the Orchestra??? Because when I think of Oman, I think of fusion and we wanted for this workshop to be nothing but a fusion. I have learnt Arabic calligraphy for six continuous years just like every child who goes to an elementary school in Oman. For hours and hours I would sit and try to copy letters and scripts using different calligraphy fonts. My school teacher used to scratch out our papers if we missed out by a single line, she used to say don't mess up with calligraphy rules. For a long time,I thought that calligraphy classes were taking so much of my time that I prefered to spend watching cartoons that were played on Oman TV every afternoon. My mother, would help me with the missing lines when she notices how frustrated I am and that my cartoon episode is about to start. In recent years, I stopped practicing calligraphy, I figured out that most of what I write is actually in English and usually in a soft format meaning either typed on my laptop keyboard or smart phone screen. 
Bringing an Omani calligraphist to instruct beginners and non Arabic speakers?? Would it be a good idea?? Both Hind and I Arabic native speakers who took calligraphy classes for many years would still find calligraphy difficult, confusing and time consuming. Then I remembered, reading once an article about a new generation of calligraphists in Oman who are doing one thing people in Oman are good at: Mixing classic with modern. Abstract Calligraphy is a new form of art that extracts the basic elements of calligraphy and blends it with contemporary art. So we contacted Saleh Al Shukairi, an Omani calligraphist mostly known for his abstract interests and experiments with colors and forms. Al Shukairi, a member of the Omani Fine Arts Society and a founding member of both the Youth Studio and the Calligraphy Club agreed to participate in our workshop free of charge. Wohooo
Next step was fund raising. Of course, money is always the limiting factor in each and every project or idea. We didn't want to charge the workshop participants anything at all, I simply thought it would be unfair to restrict participation to those who can afford it while some who might be genuinely interested in the experience won't be able to afford it. I  held my phone and say lets give it a try, I am calling Mr. Popp. He might be interested and willing to help. Georg Popp has one thing in common with Hind and I, his love for Oman and interests in its culture, people and events surrounding it. Georg Popp an artist and a photographer himself has been engaged in personal as well as professional ways related to Oman for the past twenty years. In order for him to place his various Omani related projects, he founded Arabia Felix GmbH that has produced various projects, documentaries and consultations on exhibitions for various ministries in Oman. In addition, Mr. Popp is the general secretary of the German-Omani Association, officially recognized, a bilateral non-governmental organization committed to the maintenance, expansion and deepening of relations between Germany and Oman in fields, including politics and economic cooperation.
After communicating with various members of the organisation, Mr. Popp was able to provide us with our main sponsorship partially covered by the German-Omani organisation and partially by his company Arabia Felix GmbH. To fill in some missing gaps, we contacted the embassy of Oman and in particular the Omani counselor Mr Hamood Ali Al Rumhi who also managed to provide us with an additional financial support. Al Hosni Omani Sweets provided with their first class Omani halwa free of charge in order to support our event and help us cut down the costs.
In less than a week, we had the money in,we booked Saleh's airfare ticket and hotel in Bonn and we started planning the program of the workshop. We thought of introducing people a bit  to culture,people and arts in Oman, knowing that not so many people are familiar with Oman itself, some background sounded like a great starting point. In addition, we thought of screening a documentary about Islamic Arts in Oman, and how people have adopted many beautiful elements of Islam into their day to day lives and events. 
We started working on the workshop goodie bag, we wanted it to be that piece of Oman that everyone will get to walk away with, reflect on, enjoy and think more about Oman 🙂 Hind came up with the most cute goodie bag design, but filling it up with goods from Oman being miles away was not easy and wouldn't want to go into further details here and mention all the crazy things we did to get the things we wanted to get from Oman. But, I would like to thank my dear parents and sister for making sure the items reached us on time, Hind's dear friend Umaimah Al Hinai who did all the goodie bag shopping in Muscat on behalf of us. The goodie bag also contained some publications and readings on Oman provided to us by the Omani Tourism Bureau in Berlin.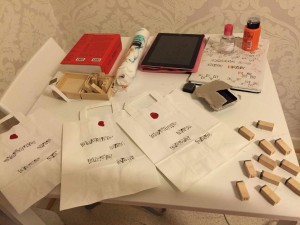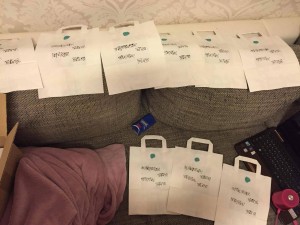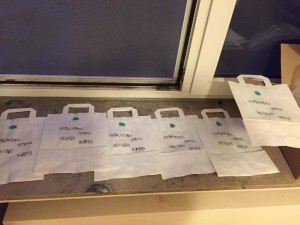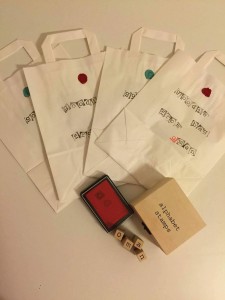 Tick tock..tick tock.. Time passed so fast, the closer we got to the workshop, the more excited we were and the harder we worked just to make sure everything works out according to our plan.We were overwhelmed by the high interests, our workshop was fully booked in less than a week and then we had to increase our participants numbers and added ten more seats just to meet up with the multiple requests of really interested people.It was hard for us to reject people, we ended up apologising from more than double the number of those we registred, even a night before the workshop, people were still contacting us asking if there was someone who dropped out or if we have a free spot to offer.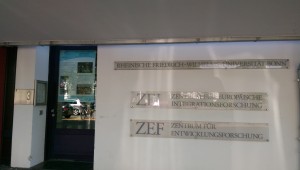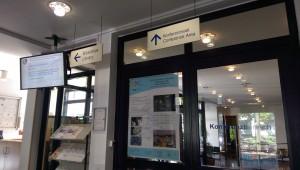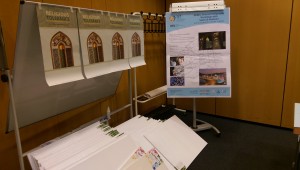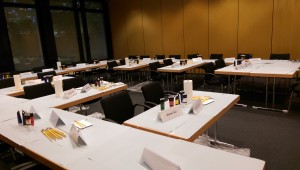 On the workshop day, we got to meet all the people whom we were communicating with us, asking for clarification and further information for the past month or so. The group just like the venue (ZEF) very diverse. Different age groups, different backgrounds and different mother tongues. But for sure one thing we had in common was our interests in intercultural dialogue and arts as well. Our artist didn't fail our expectations, he was open, friendly ,energetic, funny and filled our workshop with a lively atmosphere. Also, our participants were very active, patient , interested and excited.