Take life one cup at a time :-)
Take life one cup at a time :-)
After some 9 months spent mostly in Nairobi, Marwa was running out of batteries. It was difficult for her to sit on a chair and focus on her research while thinking that she is a few days away from going on a well-earned holiday and where else better than home for a soul therapy. Maya Angelou in the book she wrote for the daughter she never had (Letter to my daughter) said: "I believe that one can never leave home. I believe that one carries the shadows, the dreams, the fears and the dragons of home under one's skin, at the extreme corners of one's eyes and possibly in the gristle of the earlobe." Those who know me in person know the amount of longing I always carry for my home and regardless of my frequent travels and intercontinental residences, there is one particular place that I consider my comfort zone. The flaming hot sun, the annoying dust, my mother's perfume and her warm hugs, the long socio -political-economical debates I have with my father in our living room, my annoying yet sweet little brother forcing me to watch him play video games and my dear sister taking me for inter-city cruises in her car.
I had only two weeks in Nairobi between Berlin and Muscat,l wanted to sort out my research issues, just to make sure that my work will not be affected.I made sure that my flies will get a new king size home and will enjoy their stay at icipe. I made sure to divide the tasks between my interns and said to them repeatedly : Nobody is allowed to use my phone, desktop PC or enter my lab other than the three of you.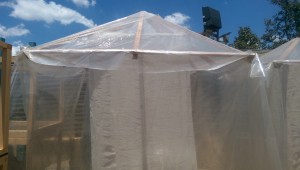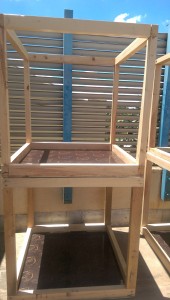 I went gift shopping, I wanted to carry pieces of Africa to every one of those who were constantly interested in learning more about my journey. The two weeks passed in a blink of an eye and it was time to wave Nairobi a pretty goodbye.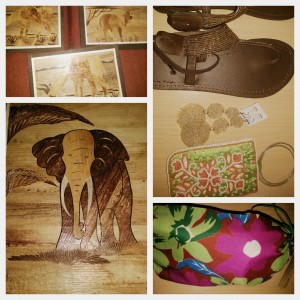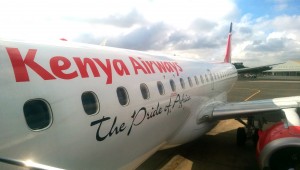 The journey back home took me to a city I vaguely remember from a documentary I watched long time ago titled Operation Thunderbolt: Entebbe.Operation Entebbe (military code name Operation Thunderbolt) was a counter-terrorist hostage-rescue mission carried out by commandos of the Israel Defense Forces (IDF) at Entebbe Airport in Uganda on 4 July 1976 to free more than 100 Israeli and Jewish passengers, along with the non-Jewish pilot Captain Bacos, who remained as hostages and were threatened with death.Here is a youtube link to the documentary  https://www.youtube.com/watch?v=W3LTfZ1CZ1g
Entebbe, a major town in Central Uganda, was once the seat of government prior to the independence in 1962 and is still the location of State House, the official office and residence of the president of Uganda. Both Entebbe and its airport are located right on the shore of Lake Victoria to the point I thought that the plane would land on the lake instead of the nearby runway. The weather was lovely and it kept on drizzling as we walked out of the plane.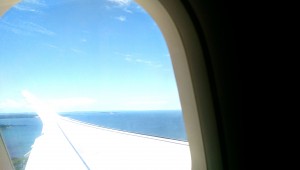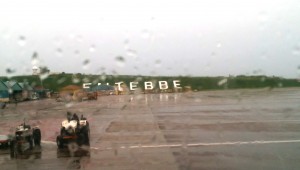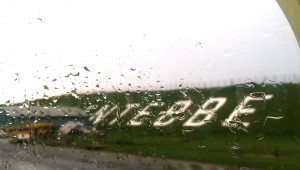 While waiting for my connecting flight at Entebbe,I started imagining what would my flies do now that I am on a holiday. As they say: when the cat goes away,the mice come to play. I imagined them flying all over the place, sunbathing on the terrace and having a dip in the water fountain.My dear flies, please behave and act responsibly and don't mess up with my research plans.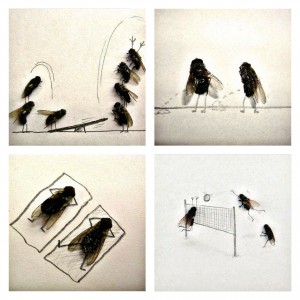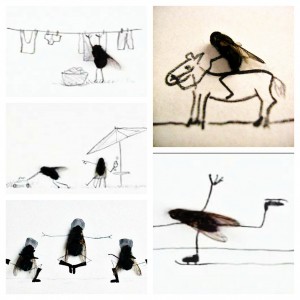 *Fly art credit: Flychelangelo/Magnus Muhr
Time passed so slowly, that's the habit of time when one is waiting for something or wanting to be somewhere so bad. The moment the 'fasten your seat belts' signs were switched on and the pilot announced over the speakers: cabin crew prepare for landing, my heart started beating so fast and a thousand and one beautiful memories lingered over my mind. Marwa kept on looking outside the window, just like a little child wanting to visualise each and every detail,the continuous sands,the little white houses scattered around the mountains.And her heart must have skipped like a ten thousand beats the moment she felt that the plane wheels touched the runway grounds.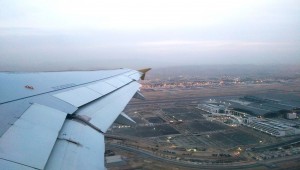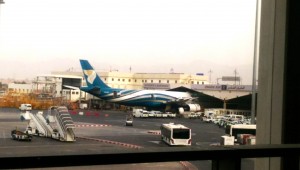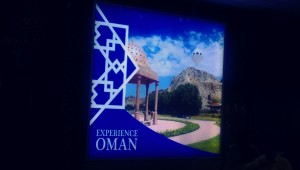 As soon as the plane door opened, the hot humid air hit me right in the feels and I knew that once again I was HOME 🙂 One of the first things I did was to talk a two minutes walk from my parents home to the nearby mosque, Sultan Saeed Bin Taimoor Mosque which is nothing but a miniature of the Ottoman architectural piece Hagia Sofia. Inside the mosque,Its only me,myself and I.Here I can whisper my fears, talk about my failures and dare to dream. Here is also a place where I disconnect from other people and reconnect to my own self.Rooms of silence are important in my opinion, they provide an indiviual with a chance to sit back, reflect and get rid of any negative energy trapped within.By the time I was ready to leave,I felt like I was born again 🙂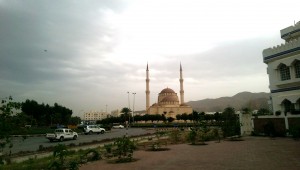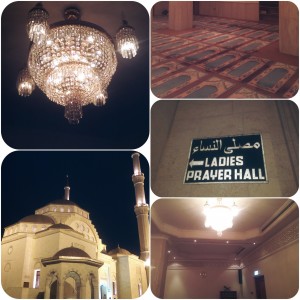 I was on a date with a good old friend, after a long time, once again I met up with Dr.Manal. Manal and I went to the beach not so far away from we both grew up and lived, hmm about five minutes a drive. To Manal, going to the beach is an ordinary activity and perhaps an outdated routine. To Marwa, a trip to such a place is a walk down the memory lane. I could have shed some ten thousand tears (out of joy of course) the moment my bare feet touched the beach. Here is a place I have a long history with. As a child, my parents took me and my two sisters and brothers to this beach every Friday. We packed our swimming stuff, balls,kites ,frisbees and lunch and carried them along with us. My father would help us in and around the water and on the beach my mother and I collected shells that we later used to decorate the sand castles we made together. Every Time we were done with a castle, the waves reached the shore and washed it away. Instead of getting angry, my mother filled the bucket with sand again and helped me build a new one with lots of patience and love. Never did I know at that little age that my mother was teaching me a crucial lesson : In life,when one is faced with adversities and unexpected conditions, there is nothing better to practice than patience and persistence.That it's okay to try again and again but its not okay to easily give up and surrender to externalities 🙂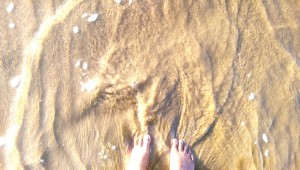 As a child, I was always fascinated by the sight of policemen patrolling the beach with their pretty horses. My mother often told me to go and say hello to them and to touch their horses and pat on their backs.Some twenty years later, policemen along with their horses still patrol the beach and Marwa still just like that little girl she was remains fascinated by their sights.
Of course, Manal had to pull off her one woman comedy shows and because of her Persian roots, we had no other option but to go for a pot of Persian tea, blended with saffron and rose petals, Persian Chai is the best way to cool off after such a warm walk. In addition to Chai, we had pink burgers and orange shrimps 🙂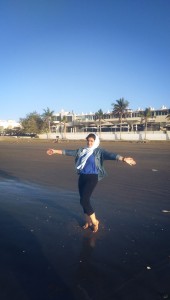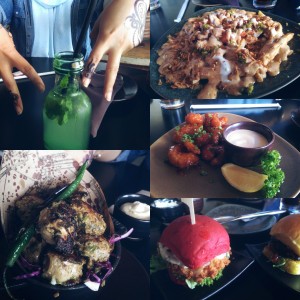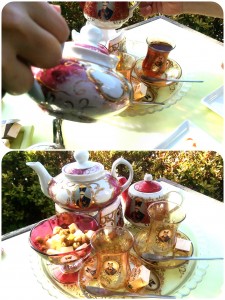 On our girls day out, Manal took me to the Royal Opera House, Oman's premier venue for arts and culture. The opera house symbolizes contemporary Omani architecture and consists of a concert theatre, auditorium, formal landscaped gardens, cultural market with retail, luxury restaurants and an art centre for musical, theatrical and operatic productions.Our choice of the evening was  Cafe Fauchon ,an international gourmet food company that was founded in Paris in the late 1880s. At Fauchon, we enjoyed cream coffee and pistachio and strawberry cakes.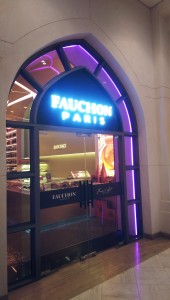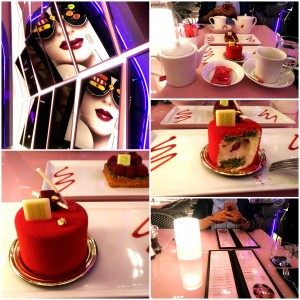 Next get together was at Dr.Layali's. Layali and I met at the kindergarten, today more than quarter a century later, Layali remains my childhood, best friend and sister 🙂 Layali in partnership with her mother prepared a traditional Omani dinner banquet for me. Her mother thought that I would be missing authentic delicacies that I won't be able to find while being away. We were not the only attendees of the banquet but in addition, Layali's hairy and cute kittens joined the feast 😉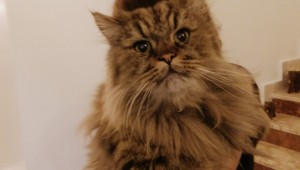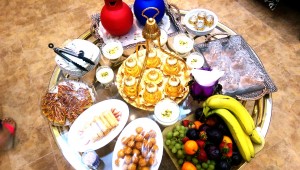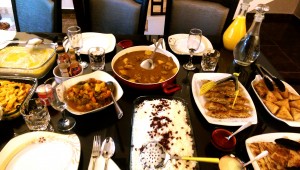 My father and I went on a touristic city cruise, to places a resident in Oman won't visit everyday, but to Marwa going to such places means feeling home once again and getting connected with herself.We had a walk by Muttrah Corniche. Muttrah was the center of commerce in Oman before the discovery of oil and its Souq (the old bazar) is perhaps one of the oldest markets in the Arab world. Located on Muscat's harbour and strategically on the way to India and China, Muttrah was a prominent trade hub at the age of sail.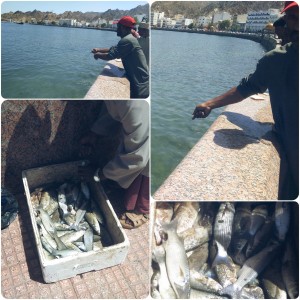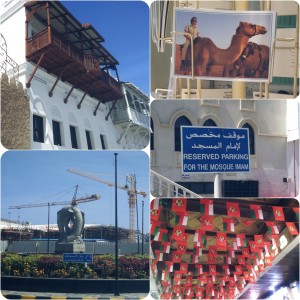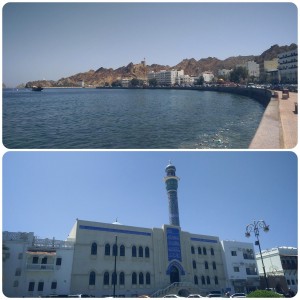 On a Friday afternoon, I joined my father on a spiritual trip to the Sultan Qaboos Grand Mosque.The Grand Mosque is the main mosque in Oman and regardless of you being a spiritual person or not, you can not disagree that this beautiful building is an architectural wonder.The mosque's main hall is covered with the second largest carpet in the world that was hand woven in four years in Tebrez,Iran. Also,the 14 meters tall chandelier above the praying hall is considered the second largest  in the world.The Grand Mosque is open for tourists every day and provides free guided tours, Don't mess on that if you ever visit Oman.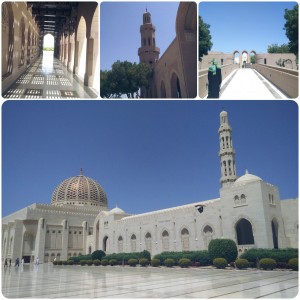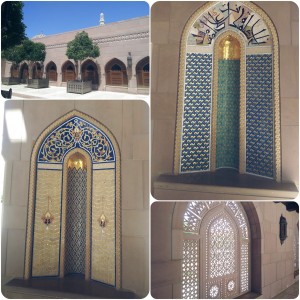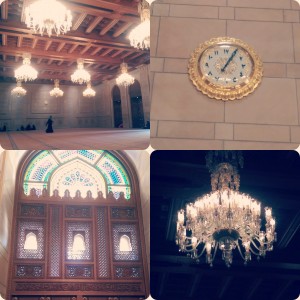 During my holidays in Oman, every detail becomes later on a sweet memory. Again,Layali and I went on day trip to the old town of Muscat. A roundabout that I grew up seeing all the time, has a different meaning to me today. This medium sized Dhaw ship also known as Al Boom in Oman reminds me of our childhood school trips that we went to together, to the Sultan Qaboos port next to it, to Fort Al Jalali opposite to it. Fort Al Jalali is among Oman's most famous forts that stand at the entrance to Muscat bay. Together with Fort Al Mirani are considered the capital's most prominent landmarks and were built in the 16th century AD. From its pinnacle, there are breathtaking views of the harbor as well as the entire old city in the protective embrace of the surrounding mountains.The Portuguese completed the construction of Fort Al Jalali in 1587. Its present-day structure dates back to the reign of Sayyid Said bin Sultan. Few historical structures showcase Omani martial skills and the grandeur of Omani fortifications in times bygone like Fort Al Jalali. The fort offers a wealth of insights into Oman's rich heritage and culture and was restored and converted into a museum in the reign of His Majesty Sultan Qaboos bin Said.Fort Al Jalali surrounds Al Alam Palace, the ceremonial palace of Sultan Qaboos of Oman.The palace has a history of over 200 years, built by Imam Sultan bin Ahmed the 7th direct grandfather of the current Sultan. Although visitors are not allowed in,the palace remains a popular place among visitors for walking around and taking photos in front of.Going on such a trip with a childhood friend is like digging in an old history book, at moments we laughed so hard at details that we both remembered from the past, at times we wondered what happened to this person or where on earth is that teacher and how is he doing right now.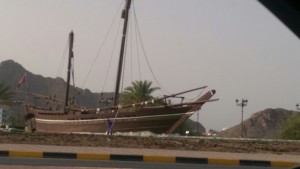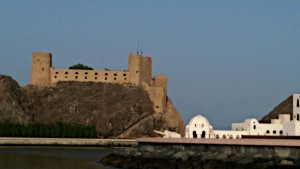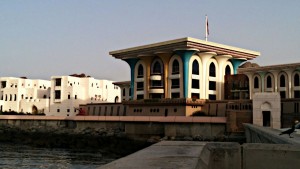 Layali and I went on an adventure just an hour and a half away from Muscat.Our adventure took us to Wadi Dayqah Dam a huge construction and a real contrast of natural Omani beauty and impressive human engineering.The dam was built to collect the periodic rain fall from the high peaks above and control the volume of water flowing through the narrow torrent, 'dayqah', to the villages below. This still maintains the ancient "Falaj" irrigation system whilst controlling the surges of water rolling off the hillside.The dam is quite a spectacle for Oman and is by far the highest in the country. The water lake is 8 kilometres  long and can hold 100 million cubic meters of rain water.The dam is also a recreation site for families who can relax and enjoy the fine weather and beautiful sceneries from a well maintained park constructed at the dam site.The drive to the dam itself was quite a thrill to two young ladies who are afraid of driving up the mountains. However, the time we spent at the dam was worth the journey 🙂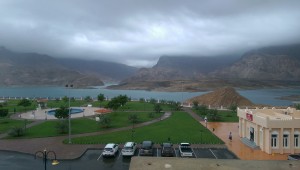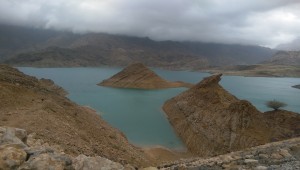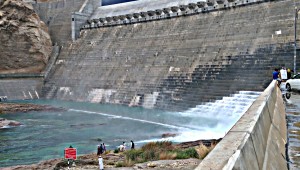 On my last night in Oman, my sister invited me for some mojitos at Fridays. Fridays is a hipster dinner where you can enjoy a fusion of cuisines surrounded by Elvis Presley and lots of celebrities and stars. For a change in atmosphere, Friday's is not a bad option, not bad at all 🙂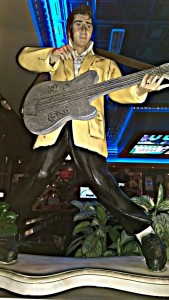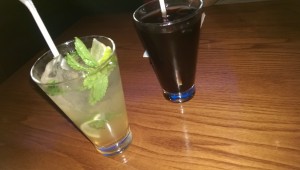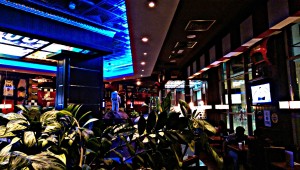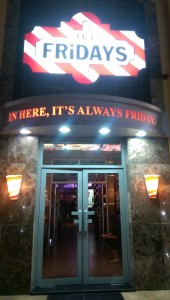 There are things that people who live far away from home miss and long for. These things might be present in abundance at home, to the point people got bored and over them a long time ago. I for example constantly miss the flavored malt drinks in combination with chips Oman, a taste you would grow up to admire in Oman 😉 In addition, my father never forgets to make sure that the latest edition of Al Arabi magazine is awaiting at home prior to my arrival. Al Arabi magazine is an interesting print that combines history, arts, culture and travel along with contemporary issues including science and development. If you can read in Arabic, then grab a copy and dive into an interesting knowledge seeking journey. 
My vacation in Oman came to an end sooner than I imagined, indeed good times fly by very fast. To my beloved family, thank you for the great times, for making me feel home as I have never left before. My sweet mother thank you for the continuous joyful chats and outings, my beloved father I remain grateful towards your generous hands and my cute brother and loving sister, thank you for keeping me entertained. My good old friends, Emily Dickinson once said: My friends are my estate. Indeed, your friendship makes me richer both in my heart and soul.
To beloved Oman 🙂 The moment the plane started taking off again and I started losing sight of your beautiful white neighborhoods and the palm trees started getting smaller and smaller and the plane kept on flying towards the ocean,I knew I was again going to be homesick and far away. The warmth of your memories is what keeps me going until we meet again.I am sure we will do 🙂 stay safe until then. After such a break, I felt recharged with positive vibes again, it is important to take a break, to reunite with your loved ones and to disconnect from your day to day routine even if it was just for a short while. Note to self: TAKE LIFE ONE CUP AT A TIME.