Will bugs save our life: A conference on the importance of edible insects in East Africa
Will bugs save our life: A conference on the importance of edible insects in East Africa
Sunday, late at night, Marwa finally returned to her Kenyan home after a wonderful experience in Berlin. Monday morning and just few hours later, she got up and exchanged the winter clothes in her suitcase with summer ones. She was exhausted, yet excited, sleepy but rather spent the night sleepless. As she walked out of the door, she did a final check: passport ..check, ticket…check, wallet…check and keys..check. Yes,everything seemed under control. At the airport, a song played inside her head: Its just another manic Monday, I wish it was Sunday, coz thats my fun day . The plane left Nairobi and flew for some 30 minutes on a low altitude that kept Marwa well entertained. She didn't see any elephants, giraffes or lions but rather lots of migrating birds, just like Marwa, these birds have more than one place to call home. As the plane approached Kisumu Marwa was on a date with a place she ever wanted to see before: LAKE VICTORIA.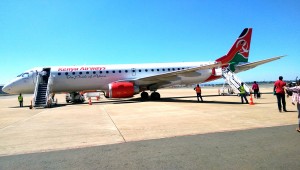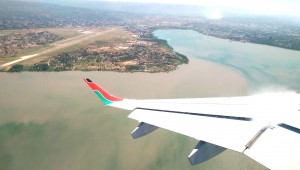 I had in my mind that Kisumu is a small town, but to the contrary it's Kenya's third largest city and the principal city in Western Kenya and is considered an international shipment point for petroleum products in the East African community. What makes Kisumu very special in my opinion is that it lays on the banks of Lake Victoria. The Europeans quest in finding the source of the great River Nile led the British explorer John Hanning Speke to Lake Victoria -Africa's largest lake- that was known to the Arabs by then as Lake Ukerewe. Speke renamed the lake to Lake Victoria in honor of Queen Victoria of England. During the 20th and early 21st centuries, the lake and it surroundings suffered from overfishing as well as environmental damages caused by pollution and invasive species such as the Nile perch and water hyacinth. However many of these impacts were significantly reduced and managed.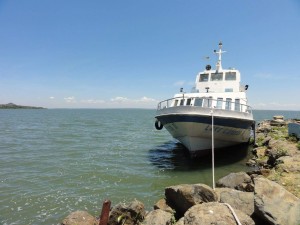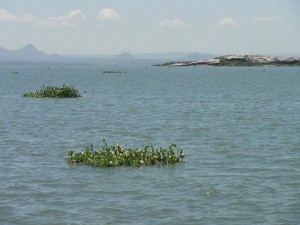 The reason why I visited Kisumu was to participate in the International Conference on Legislation and Policy on the Use of Insect as Food and Feed in East Africa. The conference was co-organized by icipe and Jaramogi Oginga Odinga University of Science and Technology (JOOUST) in cooperation with other universities and funding organisations that are involved in icipe's projects related to Insects for food and feed such as the University of Copenhagen, Wageningen University, GIZ and the Australian Centre for International Agricultural Research. I was actually surprised and never thought that there are so many researchers focusing on edible insects and it was a good chance to learn from others and get to know what are they engaged in.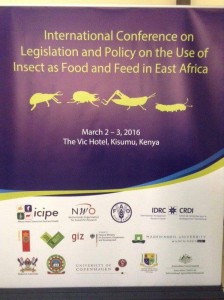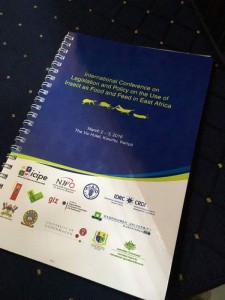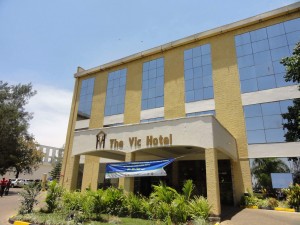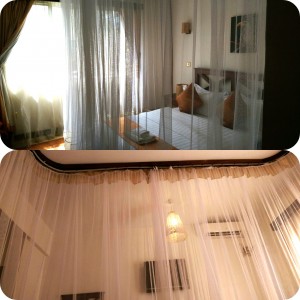 The conference goal was to inform governmental regulatory authorities and other stakeholders about the importance of insects as food and feed to improve food and nutritional security in East Africa (EA) and the need to develop, adapt and strengthen legislations and policy to govern their use. Some of the conference's objectives were to share experiences and lessons among participants from Africa, Asia, Europe and the USA with regard to legislation and policy in the use of edible insects as well as to draft recommendations to inform policy on their regulation in EA.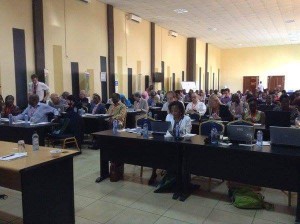 The conference was a good chance to meet my Professor again, Prof.Borgemiester acted as a chair for a session on research for development to support production, legislation and policy. He too with his project partners at icipe presented their new project ENTOFOOD, an insect-based products to enhance food and nutritional security in Sub-Saharan Africa.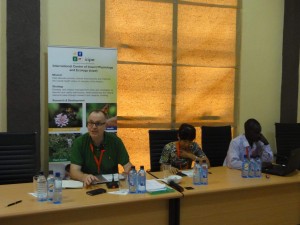 Marwa and for the first time in her life acted as a rapporteur for a session on consumer perceptions and she and her black soldier flies presented a poster on insects for feed and organic waste degradation. She also had the chance to interact with many junior researchers from all over the world active in her field of research and interest.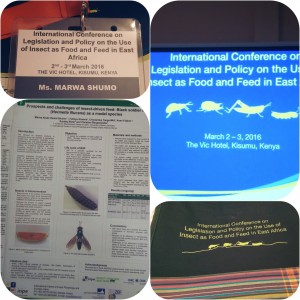 During the conference, participants got the opportunity to visit JOOUST insect rearing facilities and were briefed on their research activates on crickets and black soldier flies. We also had a lunch gathering at icipe Mbita's campus right on the banks of Lake Victoria and that was for Marwa an unforgettable afternoon. At Mbita, we also visited the new cricket rearing facility that is supposed to facilitate crickets large scale production. In order to get to Mbita, we and our conference busses went into a ferry and enjoyed a free lake Victoria river cruise :-p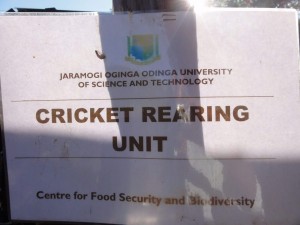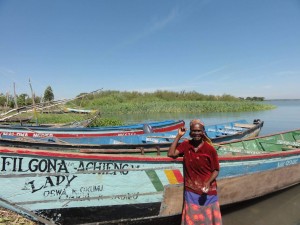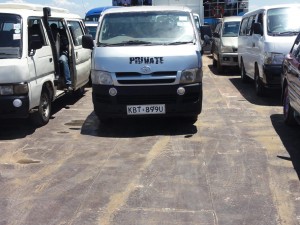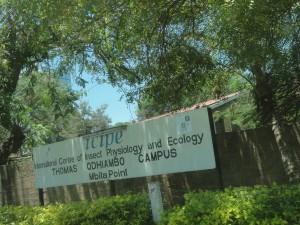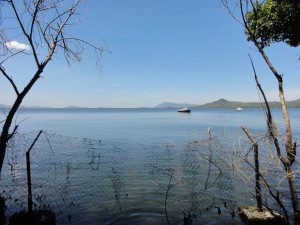 The conference talks were very diverse and in particular I enjoyed Prof.M.Ayieko's talk on the North-South Idea of processing and consuming edible insects. It was also nice to hear about edible insects from a chef perspective as Mr.R Flore from the Nordic Food Lab, Denmark shared his worldwide journey to find local insect recipes and try to present them in a way that would capture the European taste. I learnt many new things about the nutritional potential of insects if introduced into food systems in a proper way. Of course, at such a conference, cricket cookies were present for those with an appetite for insects.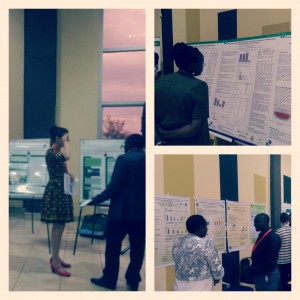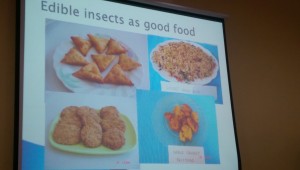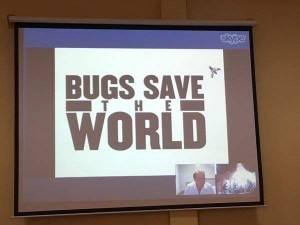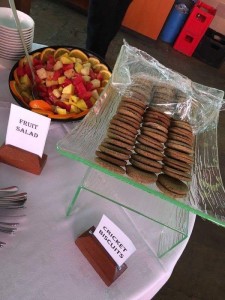 Before leaving Kisumu,Marwa was on a date at a local supermarket with some Maasai warriors  🙂 Marwa is a great fan of Maasai art and culture and she had to stop for a photo shoot with the warriors who do their groceries in their traditional clothings 🙂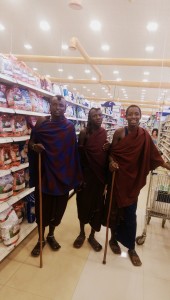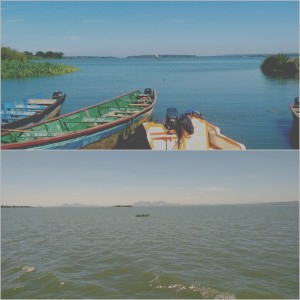 On the flight back home, I had so much to take back with me. New knowledge, new ideas and new contacts. As the plane departed, I kept on reflecting on how destiny set me on an amazing journey with insects that I could not have imagined. Half an hour later, the plane landed in Nairobi and Marwa the insect maniac was so looking forward to reunite with her Nairobi bed…Many thanks to icipe's project INSFEED and its donors IDRC & CRDI for funding my participation in this conference.
See you in upcoming posts. Till then, have a nice time 🙂