Political participation during COVID-19: Local elections in the city of Bonn 2020
Political participation during COVID-19: Local elections in the city of Bonn 2020
By Madiha Hussain, junior researchers at ZEF
During the COVID-19 pandemic, political priorities have been shifted immensely in Germany. The situation offers a good opportunity to explore how the post-pandemic political participation could look like during elections. Moreover, the case of elections 2020 highlights the future of democracy, where politicians and citizens cannot have direct interaction because of COVID-19 restrictions.
2020—The year of the pandemic
2020 has already been coined as the year of the pandemic, forcing people towards social distancing, working from home or even initiating a sense of uncertainty for the future. The epidemic primarily affected human health as well as national economies and individuals' social life. However, the implications on the way politics are being organized, carried out and "lived" cannot be ignored.
The current research is aimed to explore the new face of political participation during the COVID-19 pandemic, with a primary focus on the municipal elections held in the city of Bonn conducted on September 14, 2020, in the federal state of North Westphalia in Germany.
Impact on political life
These restrictions made it difficult for political candidates to run their election campaigns in North Rhine-Westphalia, where municipal elections were due to be held in September 2020. With large public gatherings still prohibited, political candidates were forced to limit their campaigns to holding information stalls at public places and placing banners in prominent areas of the city of Bonn.
Political candidates in Bonn opted for organizing information stalls everywhere in the city while they kept wearing masks and restricted their activities to distributing leaflets or handing information materials upon request while maintaining physical distancing rules. In comparison, almost no party opted for door-to-door canvassing in the city.
Online election campaigns
Additionally, political candidates opted for other measures to inform voters and attract public attention, including the distribution of name printed pens or designed magnets that stick to home letterboxes. In addition, social media channels like Facebook and Instagram have become an important tool for political candidates in order to reach out to voters.
Many candidates opted for online town-hall meetings, which could be attended by everyone while sitting at home. Many candidates developed strong and influencing web pages to attract the electorates. A lot of political candidates made their first experiences with videos and podcasts for the purpose of canvassing. Beside, in-person polling stations were built throughout the city with observing health precautions.
My personal election experience
Being an international student in Bonn with a permanent residence permit card, I was allowed to cast my vote. The voting card (Wahlschein) was received almost a week before the actual election day at my registered home address.
On the day of the election, I was confused with voting as I didn't know any of the candidates. I saw a few posters and got a few leaflets. I have a little knowledge about the political parties but didn't know much about the individual candidates. But I wanted to experience the German voting system as politics is also my research interest. I asked one of my collogues, who is sharing an apartment with me to go together. She agreed, and we went to the mentioned address on my voting card, locating it with the help of Google maps. The location was hardly 500m away from my home, and we accessed it on foot. On our way, we discussed the political parties in Germany and decided to vote for one candidate based on his/her party ideology. There was a strong feeling in my mind that I don't know the candidate in person and chose just based on his/her affiliation with a political party. While passing by city Bonn, many times I saw many political candidates, but no one tried to approach me or try to convince me to vote for him/her. The leaflets were in German, and it was difficult for me to understand them completely. So, the selection of the candidate was purely on party basis. A study conducted by Prasad in 2004, stated that if a candidate contests from a party that is not a voter's popular choice, he/she may have a lower chance of being elected. In my case, I experienced it.
I was feeling excited to cast my first vote in Germany, but at the same time, feeling confused because of my first voting experience in Germany. While reaching the place, I realized that I forgot to bring my mask. I felt reluctant and tried to cover my nose and mouth with a tissue paper. There were only 4-5 people ahead of me, waiting for their turn. As I entered the voting hall, the presiding officer offered me a mask free of charge, and she handed me a pen. I had the ballot paper and pen but did not know how to vote for the desired candidate. As, in my home country, Pakistan, I have to put a stamp on the ballot paper on the chosen political candidate. So, I asked one of the presiding ladies how to cast my vote, she explained to me, and I marked my desired candidate in a polling booth in private. All went well and both of us cast our votes and came back home within 30 minutes.
Political participation in 2021: an outlook
Germany is all set to have Federal elections in the fall of 2021, and the successful way municipal and state elections were held in 2020 is a positive sign for democracy. The voting turnout in North Rhine Westphalia's municipal elections was 51.5%, including submissions of ballots by post. However, to promote a safe democratic life, while keeping in view the second wave of COVID-19 in the upcoming months, the need of safer voting platform should be a top priority, either by mail or online. It will be a significant step to increase the citizens' political participation and robust voting turnout. Moreover, a little effort must be initiated to train the expats regarding the voting system in Germany so they can also meaningfully contribute in the upcoming elections.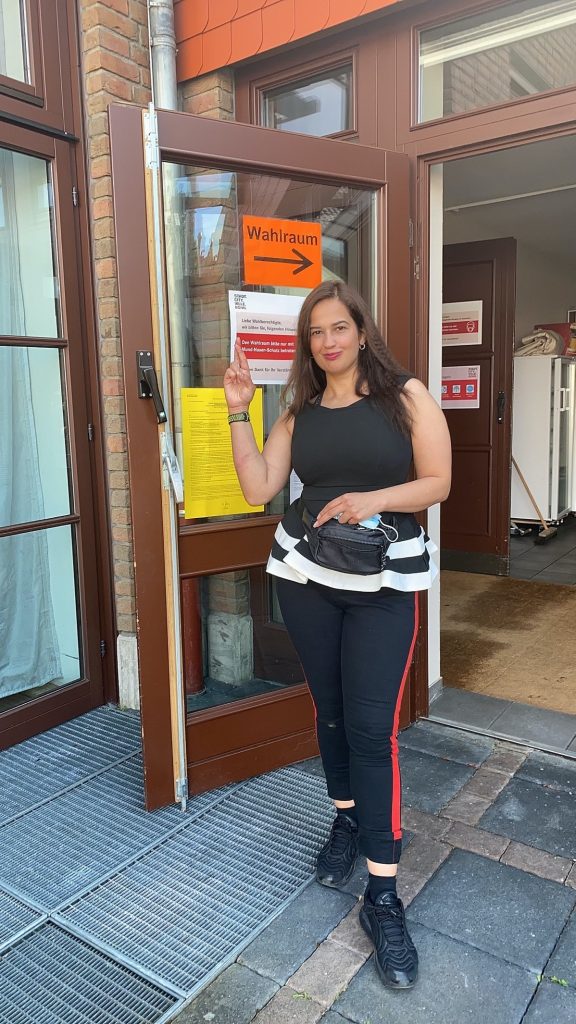 Madiha Hussain (in the picture at the local elections in Bonn, September 2020) is a doctoral student at ZEF.