The Importance of Knowledge Platforms for Sustainable Cities
The Importance of Knowledge Platforms for Sustainable Cities
Reflections and impressions from the ICLEI World Conference in Malmö, Sweden, in May 2022.
By Niklas Wagner, junior researcher at the One Health and Urban Transformation Graduate School of ZEF/ University of Bonn. Niklas's research focuses on institutions that connect knowledge and policy in the context of urban climate resilience. He participated in the World Congress of Local Governments for Sustainability (ICLEI) that was jointly held with the 6th ICLEI Research Symposium in 2021/22 in Mid-May in Malmö, Sweden. Subsequently Niklas joined the First Regional Convening of the Intergovernmental Panel on Climate Change (IPCC) for Summary Urban Policy Makers Process (SUP). He shares his insights in this blog post.
The importance of cities and ICLEI as a transnational network of cities
Cities are playing a pivotal role in addressing the climate crisis: Whereas the majority of the world's population is currently living in cities, United Nations Habitat expects more than 70% to be living in urban areas by 2050. More than 70% of the world's green- house gas emissions are generated by cities. Therefore, cities will be key in addressing the urgently needed reduction of greenhouse-gas emissions by mitigation measures. While being responsible for the majority of the world's emissions, city dwellers are still among the most vulnerable when it comes to coping with the devastating impacts of climate change. The IPCC warns in its most recent report (2022) that especially the poorest on the globe are suffering and will suffer even more from the effects of floods, storms, extreme heatwaves, as well as sea-level rise. Thus, cities are key actors for both mitigation and adaptation measures to counter the impacts of climate change
For connecting these key actors, transnational sustainability networks of cities have become more important. One of these networks is ICLEI (Local Governments for Sustainability), with more than 1750 member-cities in more than 126 countries. ICLEI'S mission is to build and serve a worldwide movement of local governments to achieve tangible improvements in global sustainability. To achieve its mission, ICLEI has included an advocacy and knowledge-generating role for promoting sustainability in its mandate.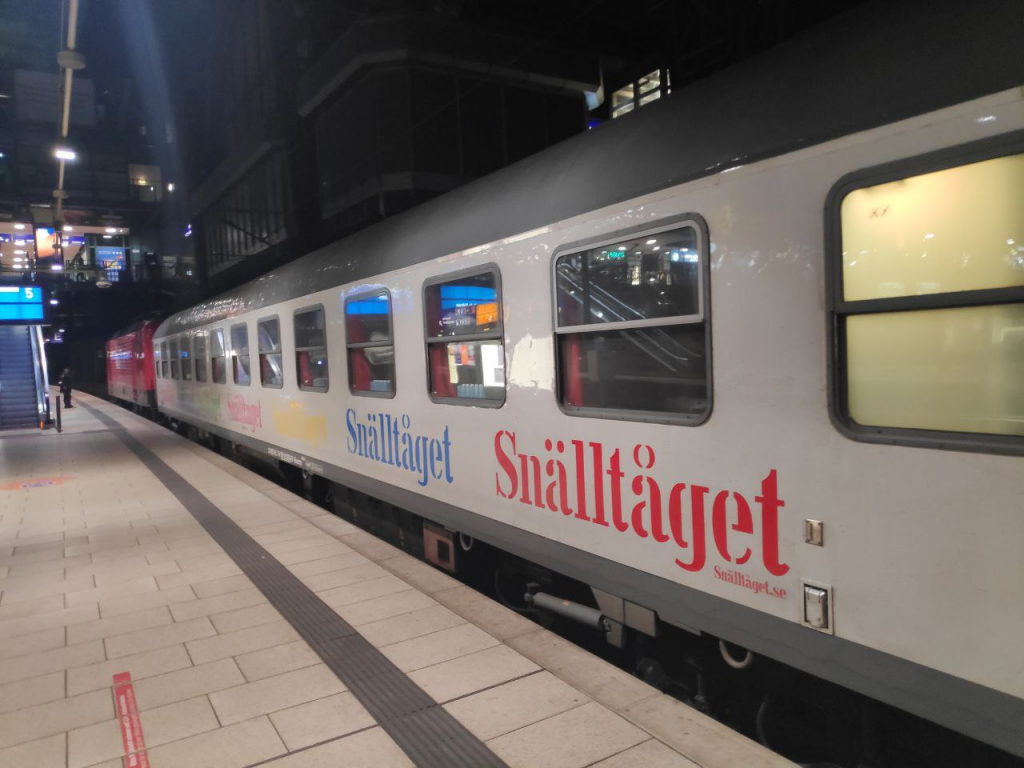 A night-train ride to the ICLEI World Congress in Malmö, Sweden
"As a researcher I look into the legitimacy of organizations connecting knowledge and policy in the urban climate- resilience context".

Niklas Wagner
So I decided to participate in the ICLEI World Congress and the 6th ICLEI Research Symposium 2021/2022 taking place in the city of Malmö, Sweden, in mid-May this year to get some more insights. My trip to the conference began with a train-ride to Hamburg in the evening of the May 9, my first travel per night-train in mainland Europe! The Swedish train company snälltaeget has started operating between Berlin and Stockholm only last year, so I was excited to travel on this route from Hamburg to Malmö. After around seven hours of sleep, I woke up with the sun rising above the (Strait of) Oresund between Copenhagen and Malmö. I arrived in Malmö just in time to leave my luggage at the Airbnb and join the first part of the conference, starting at 9 am, which was a Research Symposium hosted by the United Nations Maritime University.
The ICLEI Research Symposium
As my research covers organizations bringing together knowledge-holders and policy makers, ICLEI´s research symposium, bringing together researchers and city leaders, was of special interest to me. I was interested to see how and what ICLEI would do and achieve in this regard. Stated objectives of the research symposium were to bring together researchers with city leaders, to co-create approaches to create actionable knowledge as well as to stimulate discussions on how relevant knowledge gaps could be addressed.
Directly at the start of the symposium knowledge gaps in the field of urban climate resilience were presented as part of the Global Research and Action Agenda (GRAA) for cities and climate change, which was launched here. The GRAA is a corner stone of a special report on cities and climate change to be produced by the Intergovernmental Panel on Climate Change IPCC during its seventh assessment cycle. This special IPCC report was proposed by the government of South Africa in 2018 and is now stimulating new research through the GRAA. In my opinion, this interaction of how politics can stimulate relevant research is a fascinating example of how science and policy are interwoven.
By promoting the implementation of the GRAA and presenting its own research agenda at the Research Symposium it became clear to me that ICLEI wants to position itself as a leader in the realm of policy-practice interface. I have learnt about ICLEI's role later during the main conference as well, but this statement on its own was interesting for my research as it shows how ICLEI actively intends to build a platform for connecting knowledge and policy.
The Research Symposium also showed how ICLEI actually is already serving as a knowledge platform which is bringing together policy makers and knowledge holders. The Research Market Place with its power-pitches brought together different stakeholders and generated interesting discussions around planned research. However, one day was simply too short to co-create approaches for creating actionable knowledge. But I hope that a lasting cooperation has been formed during this days.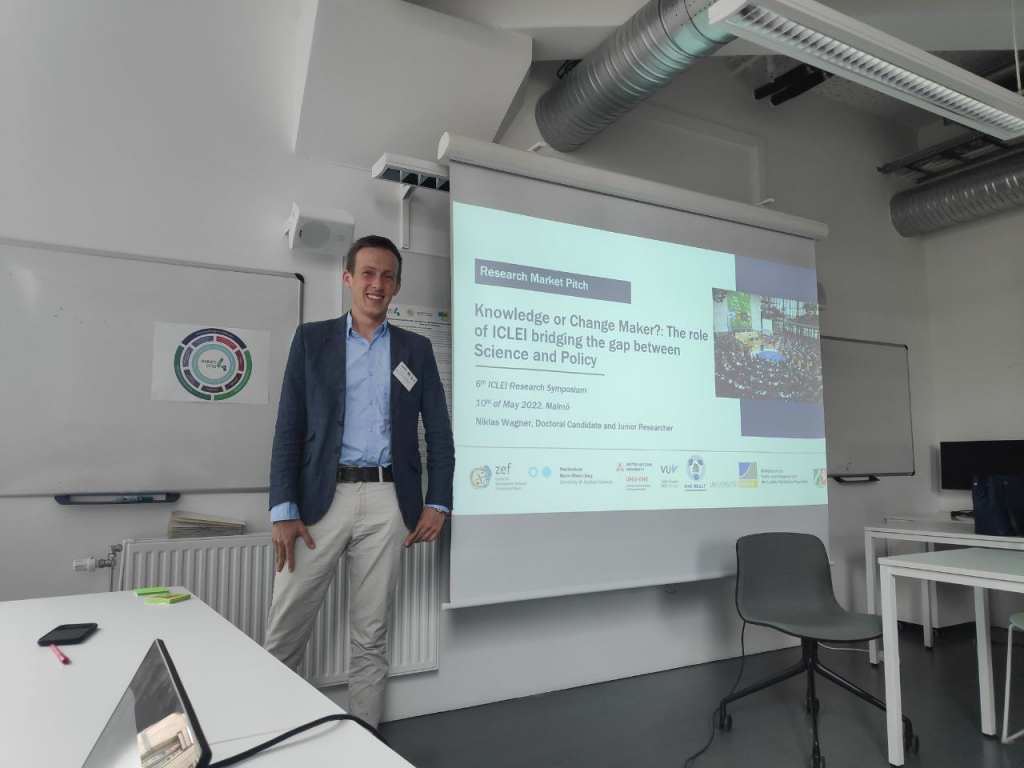 First Regional Convening of the IPCC Summary for Urban Policy Makers Process
At the side of the ICLEI conference the first regional convening of the so-called IPCC Summary for Urban Policy Makers Project took place. This convening brings together mayors and their climate specialists with IPCC authors in order to produce a summary of the three latest IPCC reports published in the sixth assessment cycle. The summary covers the physical science-base of climate change, the impacts and adaptation as well as mitigation options relevant for urban policy makers. I took part in the regional convening of European countries in the city hall in Malmö, where I able to observe this meeting from a researcher's perspective. It was interesting to see how policy makers were interacting with the IPCC authors, highlighting the usefulness of this information sharing. Right from the first meeting's start it was made clear that language clarity and simplicity are absolutely crucial for the interaction between policy makers and scientists. I am grateful to continue to follow this process in future as it seems to be a light-house example of how IPCC knowledge could become actionable.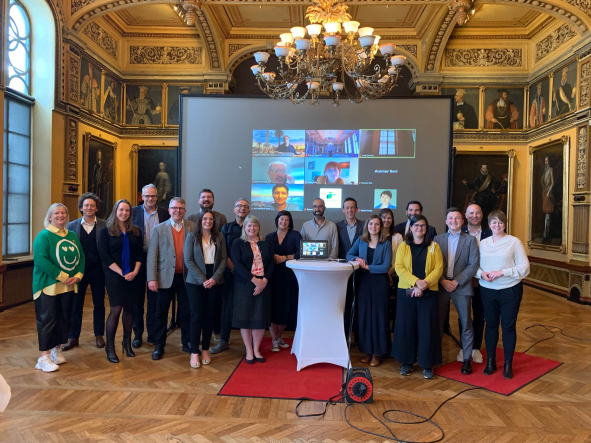 The ICLEI World Congress
The observation I made at the Research Symposium that ICLEI connects knowledge and policy was endorsed in a, for me unexpected, but interesting way.
"Actually, the whole conference was designed to build networks, networks, networks… "

Niklas Wagner
During the event's launch for example, the audience was seated around round tables and encouraged to sit with people they did not know yet. Thus, discussions could be generated and new network options explored. Next to round tables during the sessions, there were a lot and extensive networking options and opportunities during coffee, lunch and dinner breaks – created by designed. This might not come as a surprise for frequent conference participants. For me as a researcher on interfaces between knowledge and policy it was still interesting, though. Next to more science- and research –based knowledge exchange, the networking was used to exchange implementation-oriented knowledge between policy-makers during social interaction. This part of in-person social interaction was crucial especially after more than two years of pandemic dominated by virtual-exchange.
Thematically, the conference centered on urban sustainability topics. Issues like the importance of urban blue and green spaces for urban biodiversity, how planetary health can be achieved in cities and how data play a role in implementing climate-mitigation measures were addressed theme-wise. Personally interesting to me was a session on science-based targets allocating a certain carbon budget to cities from which they derive a climate-mitigation goal. This was highly interesting because the session was a prime example for me how facts and values intersect as various justice considerations have to be taken into consideration (historic emissions, capacity to mitigate, consequences for those not involved in the decision) when these science-based targets are defined. Overall, many of the sessions underlined how important a just and equitable transition is for achieving urban sustainability.
It has to be emphasized that in order to achieve a just and equitable transition, procedure-wise all relevant stakeholders have to be included in the exchange of knowledge. Here, the lack of inclusiveness must be mentioned: With conference fees ranging from roughly 500 to 1,000 Euros for 4 days excluding accommodation and travel, only a very limited subset of cities and researchers have been able to attend this conference. While I am aware of the fact that ICLEI is a network funded mainly by its membership fees, a more equitable access should be top of the list of discussions revolving around just, inclusive and equitable transitions. In contrast to the excluded voices, the voices of sponsoring businesses could be heard quite loudly and clearly in the discussions at the conference. This must be taken into account when evaluating ICLEI's ability as a global knowledge platform.
" To conclude my blog post I'd like to say that this conference visit offered me very interesting perspectives on the knowledge role of one of the most important transnational city networks in the context of sustainability. However, there is much room left for future research! Looking forward to it".

Niklas Wagner, ZEF junior researcher.