Postcard from India: visiting RC21 conference and exploring low-income residential areas in Delhi and Mumbai
Postcard from India: visiting RC21 conference and exploring low-income residential areas in Delhi and Mumbai
In September 2019, a group of ZEF researchers, among them three members of the "ZEF in the City" research group [find more information here] traveled to Delhi and other parts of India.
New Delhi – urban green and climate strike
Old Delhi has served as a capital for several empires from medieval times to modern nowadays India. Remade a capital under the British Empire in 1931, New Delhi was shaped by a large influx of refugees in 1947 as a consequence of the partition of India and Pakistan, as well as by in-migration from other parts of India.
Street scenes in New Delhi

New Delhi has been designed as car-dependent city and holds the position as one of the world´s most polluted cities in terms of particulate matter. It faces climate change challenges, such as extreme heat and short supply of drinking water. Local adaptation has obviously been on the agenda of urban planners for a few decades already. The entire city is covered by impressive old street trees, and many small and mid-size public parks where people meet for cricket, picnic and sports. There are larger parks as well, having caught the attention of international media because of their beauty. Since the opening of the Delhi Metro in 2002 the metro network has been expanded continuously, making possible long distance travel within the city at an affordable price.
Visiting RC 21 conference
The RC21 conference was organized by the Research Committee on Sociology of Urban and Regional Development (RC21) of the International Sociological Association. During our stay students of Delhi University rallied on the streets for better climate policies and a more consequent implementation as did young people across the globe during the Climate Strike.
Mehar Chand in New Delhi – a pending court case on the right to stay
Besides scientific panels, the conference also provided us with a number of opportunities to explore different facets of urbanity in Delhi. One excursion allowed participants to explore the very vicinity of the conference venue. Walking down a street with rather expensive galleries and boutiques selling handicraft and interior design objects, one would not expect to find a very narrow but lively 24/7 business street behind it which forms the aorta of Mehar Chand. This settlement stretches on both sides of the few hundred metres-long street. It was self-constructed in the 1960s by families whose breadwinners were employed to build the nearby soccer stadium. Today, the tight and labyrinthine community hosts about 600 families who live in small housing units which are piled on top of each other. They are made accessible via steep ladders made from metal, typical features of informal settlements in urban India. Water and electricity facilities have been constructed and provided for by the city. A mosque and a temple offer religious services. Although by now many families hold land titles, a court case has been pending since 2006 which is to decide about the fate of this low-income residential area.
The people living in Mehar Chand are standing up for their right to stay
Indira Nagar in New Delhi – in focus of civil society support
The settlement Indira Camp has been up-scaled by its mainly poor residents over the years to meet their evolving needs. Housing units, however, are very small and also piled on top of each other. The settlement has been subject to many surveys and studies conducted by Indian scholars. A number of local NGOs support the residents.
Residents of Indira Nagar have upscaled their settlement
Slum rehabilitation sites in Mumbai
Irit Eguavoen and Amit Kumar (Amit is a DAAD stipend holder and conducts his research at ZEF as part of the Right Livelihood College Campus Bonn, read more about Amit's work here) continued their travel to Mumbai. Here, they presented their work in the Collaborative Lecture Series of the Right Livelihood College Campus RLC-TISS (Tata Institute of Social Sciences Mumbai) and the Right Livelihood College Campus RLC Bangkok.
Irit had the opportunity to see some of the sites where Amit conducted his field research (see also Amit's blog post about his field research on the ZEF website here). In an attempt to improve the living condition of slum dwellers, the city of Mumbai allotted the dwellers small housing units in an apartment block. This block was incidentally constructed on a site which had formerly been covered by slums. Walking down the streets there is absolutely no doubt that this is indeed a very low-income neighborhood. However, even more complicated issues faced by the people of the area have been brought to light by Amit's field research and generated data. Whereas housing units were provided by the city council, schools and other crucial facilities were lacking. You see it immediately if you go around the corner to the rear of the buildings: Families living in the housing units overlooking the rear side neither have good air nor see any sunlight. Instead, if they look out of their windows, they see dark and dirty street canyons. Signs calling for the city's environmental cleanliness have clearly made no impact here. These signs are no more than decorations adorning the walls and city of Mumbai.
Living conditions in Mumbai's slum rehabilitation sites are more than challenging
Dumping grounds in Mumbai – Residential achievement of waste pickers
Amit and Sneha Sharma conducted field research about housing and working conditions of waste pickers from dumping grounds. Sneha's work is based on the governance of Deonar Dumping Ground in Mumbai. [read more about Sneha's research on ZEF's website here] The picture below shows the numerous recycling points that have mushroomed outside this dumping ground. Informal workers of the waste economy sort, repair and sell recyclable materials like plastics, metals and wood which then travel back to the economy through a complex chain of middlemen and buyers. Deonar is located on the outskirts of Mumbai and is surrounded by a dense slum. This slum is also one of the most marginalized slum areas in Mumbai struggling to receive access to basic urban services.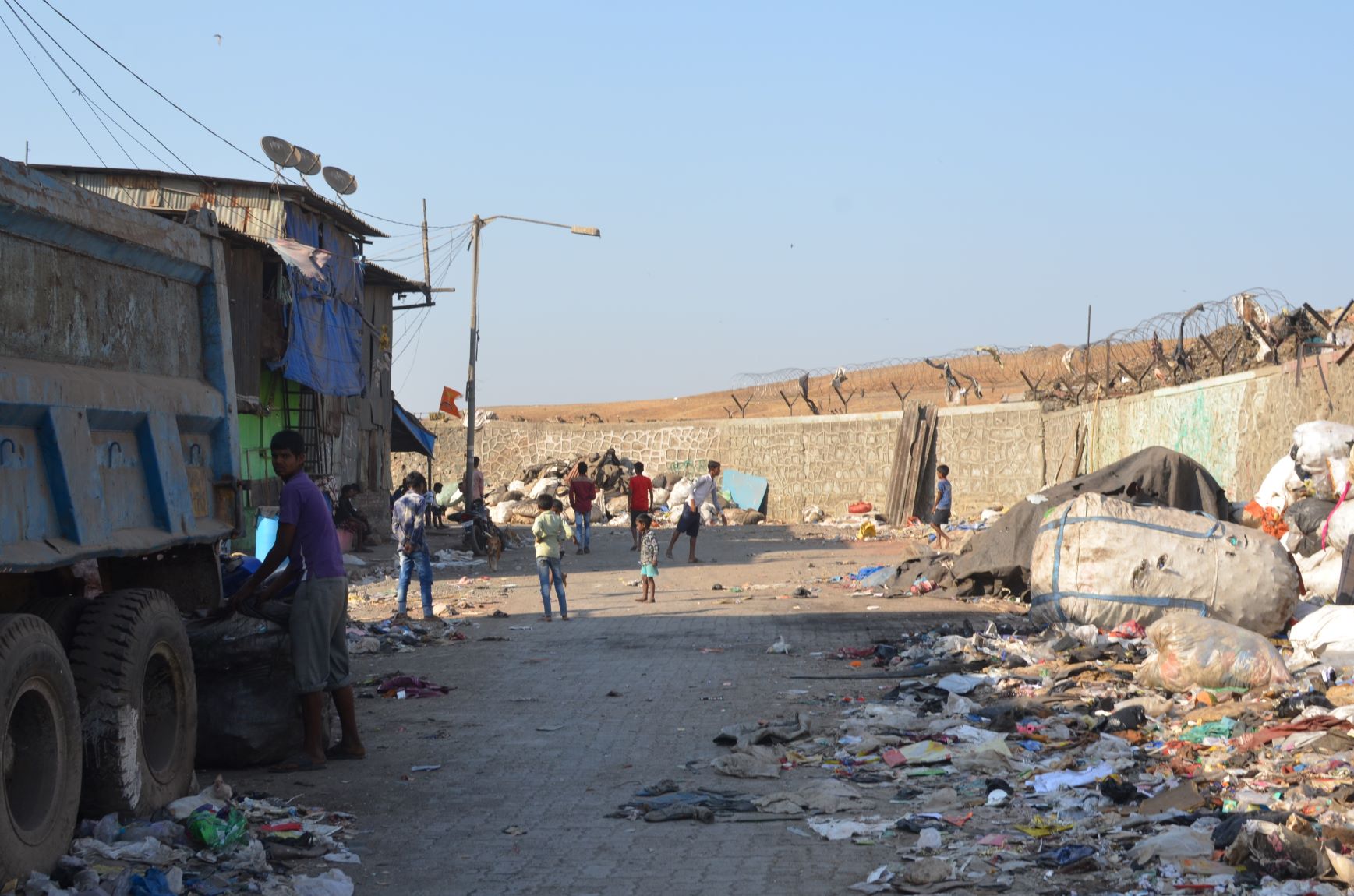 We were warmly welcomed by the residents of Deonar and got a demonstration of the latest achievements: new residential buildings, a sewage canal, water supply, a community school, as well as a new road. And we were shown pictures of the conditions they had been living in just some years ago – their houses were basically self-constructed tents. So we realised again that assessing a house by its current standard may be misleading as long as the residential history remains undocumented.
Amit Kumar talking to residents of Deonar
New connections to urban centers – Zangla in the Indian Himalayas
After the conference, ZEF researcher Sebastian Forneck left Delhi and returned to Zangla where he had stayed in the past for a period of 1.5 years (2016-2018) to conduct his doctoral field research [read more about Sebastian´s research on ZEF's Website here]. Zangla is situated in a remote valley of today´s Union Territory Ladakh. Upon his return, Sebastian could see that the pace of change in the valley had continued since he left in 2018. Two novelties were particularly evident: At long last, the first mobile network antenna had been put into operation, making it much easier for residents to communicate with relatives and friends, and their children who migrated abroad. Besides, it makes it easier to call for help in case of emergency. The second novelty was a newly paved road (for comparison, see photographs below) which reduces travel time. Sebastian is going to investigate how these and other changes might affect everyday life in the village and its connection to the urban centers in the region.
New road to Zangla

Old road conditions, still prevalent in other parts of the valley
---
Further reading:
Sharma, S. and D. Parthasarathy 2018. Urban Ecologies in Transition: Contestations around Waste in Mumbai, In: Jenia Mukherjee (ed.) Sustainable Urbanization in India: Challenges and Opportunities. Springer, pp. 207-223. https://link.springer.com/chapter/10.1007%2F978-981-10-4932-3_11
Photographs in this blog by Irit Eguavoen, Sneha Sharma and Sebastian Forneck
---