Chalo Amdavad. Leaving field research in India
Chalo Amdavad. Leaving field research in India
Short info: Anna Brückner conducts her doctoral research within the NRW Forschungskolleg research group on "One Health and Urban Transformation – identifying risks and developing sustainable solutions" (see website). The topic of her research is "Blue health for all?" and is investigating urban blue spaces as potentially therapeutic landscapes for elderly people in deprived communities. The research draws on case studies in Ruhr (Germany) and Ahmedabad Metropolis (India). This blog is Anna's second blog about her research stay in Ahmadabad.
Packing my stuff and experiences
Still wondering how to pack my bags (thanks Air India, for being so generous and allowing not only two suitcases per person, but also permitting classical Indian instruments as additional cabin luggage for free!), I am glad to know that there will be a pile of final research data among all belongings:
19 key informant and expert interviews
More than 100 pictures of 4 photowalks with senior citizens
2 group discussions with senior citizens associations
Pages of systematic behavior observation protocols in an urban park
Infinite number of landscape photographs of blue spaces in and around Ahmedabad
Considering personal intercultural experiences as a necessary condition in conducting ethnographic studies, a bunch of diverse memories in my mind and heart.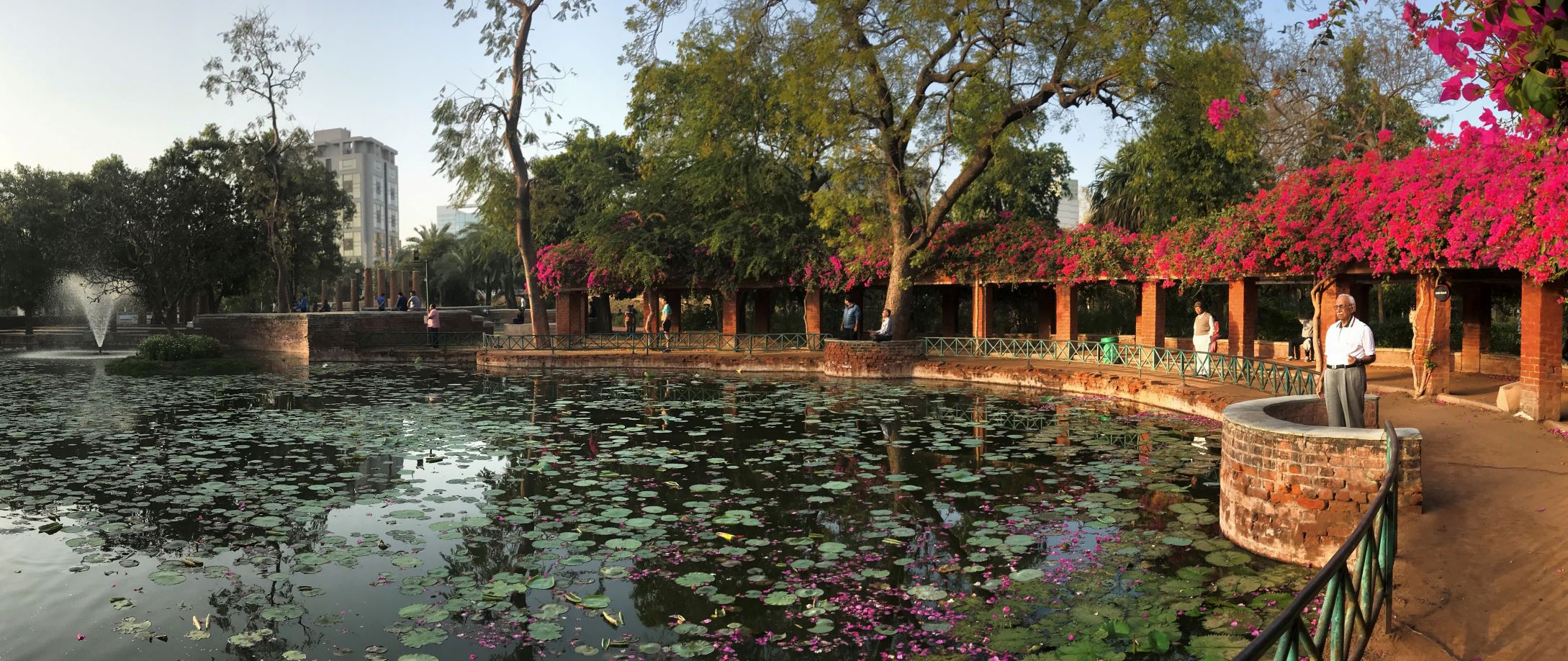 Field research
The field research probably belongs to the most exciting part of doing a PhD and I consider myself lucky that my data collection will soon continue in Germany. Spending the last five months in India was a vortex of almost all kind of emotions: feeling excited, annoyed, relaxed, stressed, cold, hot, happy, sad, confident, hopeless, balanced, nervous, fit, immobile… everything is possible in India (and / or in doing a PhD).
The first two months passed by, more or less simply trying to get through all Indian bureaucracy and surviving Indian winter without heating – how stupid it was to think that it never gets cold over there. In the end of February, I finally reached to start my data collection and spent the following weeks almost entirely in "my" park Parimal Garden (you definitely know that your life merges with your PhD if your phone saves your case study area as your home).
Pivot point: Parimal Garden
Located in a prime location in Ahmedabad, Parimal Garden belongs to one of the oldest parks in the city and probably to one of the most beautiful ones. If you ask me why, I would for sure say because it offers one of the very rare urban blue spaces that are actually blue, meaning filled with water. Putting the research lenses aside, I would also add because it is a beautiful green space, a masterpiece of landscape architecture, and most importantly, because it has a soul as it is the extended living room of so many beautiful Amdavadi (local people's name).
One of my first interviewees, a retired engineer and longtime daily park user, sums up: "Parimal Garden is the food of the day for elderly people." And so this place became my home, my living room, my daily food (actually offering the best breakfast stalls in town) for the next months.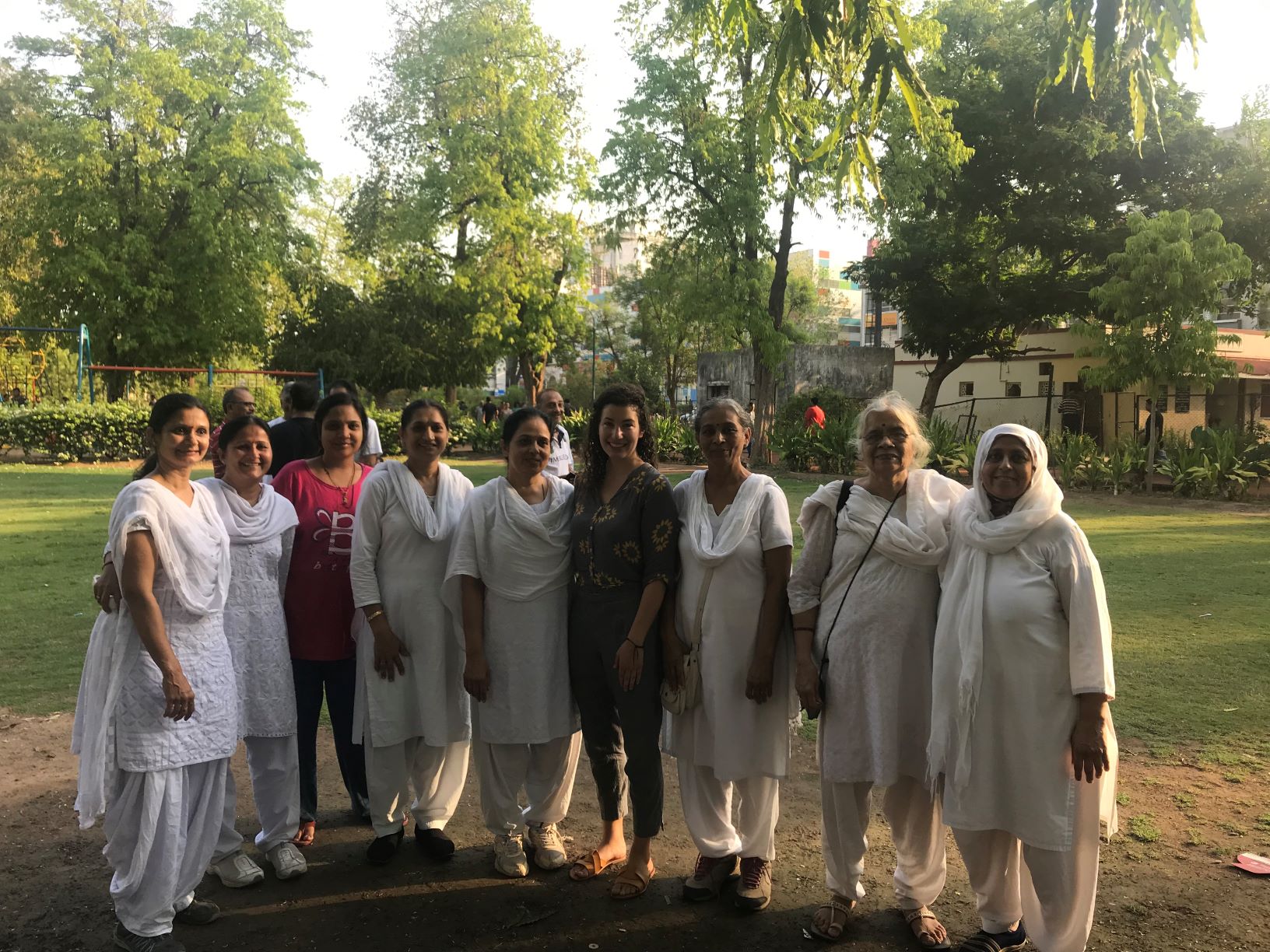 Despite all its amenities, sampling senior park users for my study turned out to be not an easy task. Indeed, it became a sportive exercise over weeks: participating in one of the seniors' yoga groups, who daily meet in the park from 6am to 7am. Though there was a keen interest among the elderly in who that European girl is who entered their green Eldorado, it was only through building trust over weeks and doing a lot of persuading that finally some seniors decided to further participate in my study. Not surprisingly, also the participation rate of policymakers is improvable, but after all, the interviews with stakeholders on the supply side of blue spaces ran comparatively smoothly. Advice for all PhD students: Do not let it get you down and take pot luck!
Teaching lesson in technology: getting my photos printed
Probably the most unpleasant surprise I had to fight with was to get the participants' pictures developed. In every shop, I was treated as coming from a country before our time when I showed them the disposable cameras. "You still use that in Germany?," heads shaking in disbelief. It almost felt like a cheek considering that many India travelers would agree that one often feels that time stands still in this country, or, no sense of time exists at all (the truth is, there is a certain time modus called Indian standard time, which typically means an indefinite time late). However, I am lenient towards Indian people. It simply does not fit into their mold of a typical German being an innovative, punctual technophile. I might think about that as a new learning objective for my field research in Germany.
After all, India (and again, a PhD) can surprise you in an incredible way. I was just about to book a train ticket to Mumbai, hoping to find a photographer from the good old days there, when suddenly a friend of a friend of a friend (in India: an extended family member) called me to say that she knows a place where I will definitely get my photos developed. As you have read my packing list in the beginning, the photos somehow really found their way out of the camera (and the key point "practicability of the photovoice methodology" on the list of critical reflections on my methodology).
Chalo Amdavad, hello again Germany!